| | |
| --- | --- |
| Posted on January 13, 2013 at 12:05 AM | |
IT'S CARNIVAL TIME!  REVEL, SET, GO!
Mardi Gras is early this year, Tues. Feb. 12, and it's time to start combing, brushing and clipping your Miniature Schnauzers especially if you're planning on participating in any of our regional Mardi Gras parades for dogs.  Our doggie parade in Baton Rouge, The Mystic Krewe of Mutts is sponsored by CAAWS (Capitol Area Animal Welfare Society) and the parade rolls at 1:30 on Sun. Jan. 27.  Hello Schnauzer Puppy has a krewe and we participate in the Mystic Krewe of Mutts.  We are mostly a krewe of Miniature Schnauzers, but we welcome all non-aggressive dogs of any breed to join our krewe.  Please contact me by Jan. 23, for more information about joining our krewe.  Remember it's all for a good CAAWS!
At the end of this entry there is a list with Links to Doggie Mardi Gras parades in our region.
"Got My Ticket in my Hand, Going to the Mardi Gras"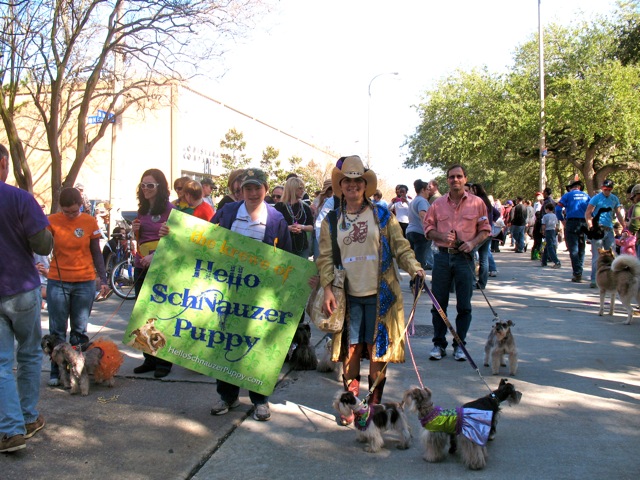 LINKS TO REGIONAL DOGGIE PARADES
http://www.caaws.org/parades/  Baton Rouge:  Mystic Krewe of Mutts
http://www.nola.com/community/st-tammany/index.ssf/2013/01/krewe_de_paws_of_olde_towne_in.html  Slidell:  Krewe de Paws of Olde Towne
http://www.mardipaws.com/  Mandeville:  Mystic Krewe of Mardi Paws  Please Note:  This is a post-Mardi Gras parade.  Let the good times keep on rollin.'
https://www.barkus.org/store/index.php?option=com_frontpage&Itemid=1  New Orleans:  Mystic Krewe of Barkus.  This parade rolls the same day as our Baton Rouge parade.