| | |
| --- | --- |
| Posted on December 25, 2012 at 11:20 PM | |
It's the holiday season and Santa has surprised many families with a new puppy.  For young and old alike, a new puppy is a happy memory that is held close to one's heart for a long time, perhaps even for a lifetime.  My favorite Christmas memory goes back to when I was 7 years old. Santa reached his red velvet and white fur lined arm through our family room door and surprised me with a little white Toy Poodle puppy.  We named him Snowball.  What a memory!   It was just a few years ago, when I finally got my mom and dad to reveal to me how they managed to get Santa to personally deliver my Snowball.  The older kids in the neighborhood had almost suspended my "belief," but Snowball and my parents well laid secret plan sustained the magic for another year or two.  It appears I've digressed, but it was a happy digression. Let's get back to the topic.

Why do you need to take your puppy to the vet?  Hopefully, your puppy has come from a reputable breeder or shelter and has already been checked by a veterinarian.  Nevertheless, it's a good idea to have your personal vet check the puppy within 1-3 days of bringing the new puppy home.  A "well puppy" check establishes a relationship with your veterinarian and your new puppy.  Your vet will notify you of upcoming vaccination dates and other wellness information.  At Hello Schnauzer Puppy we do a vet check when the puppy is first born and a second vet check a few days before the puppy goes to its new home.  We strongly encourage our buyers to schedule a well puppy visit with their own veterinarian.  As a matter of fact, it's part of our 2 year health guarantee that your vet health checks your new puppy within 4 working days.
How do you find a veterinarian if you don't already have one?  Social media is a great tool.  Ask your friends on Facebook for recommendations.  Do a Google search and read online reviews.  Ask your breeder or shelter for referrals.  Once you have a few recommendations, take a drive.  Visit some vet clinics.  Ask questions and observe the environment.  Does the clinic offer after hour emergency services?  How does the reception staff treat you?  Do they have time to answer your questions?  Is the clinic clean?  What kind of vibe do you get?  Trust your instincts.
Your first visit to the vet:  PROTECT YOUR PUPPY.  PROTECT YOUR PUPPY.  PROTECT YOUR PUPPY.  I know I've used all "caps," but I'm not screaming just emphasizing--strongly!  When we take our young puppies to the vet, we take them in a crate covered with a towel.  Remember your puppy is very vulnerable to airborne viruses; bacteria and fungii.  Don't let your puppy's feet touch the floor or the ground when visiting the vet.  TIP:  I try to schedule a well puppy check for the first appointment in the morning.  If I can't get the first appointment and the office is very busy, I wait in my vehicle with the puppies.  I'll ask the receptionist to call my cell phone when an exam room is available and the vet is ready to see me.  Don't be shy about doing this.  A good vet and his/her team knows you are acting in the best interest of your puppy.
After the vet check:  You've been to the vet and your puppy checks out just fine and you can't wait to go to the dog park and puppy classes.  Whoa!  Wait a minute.  There will be plenty of time for all that wonderful puppy socialization and training, but remember your puppy is not fully immunized until 1-2 weeks following its final round of vaccines.  Until your vet gives you the okay, please limit your puppy's activities to your home environment.  Avoid dog parks; puppy training classes; doggie boutiques and other places with high volume dog traffic.
A healthy puppy.  A great relationship with your vet.  Years of fond memories with your Miniature Schnauzer.  Priceless!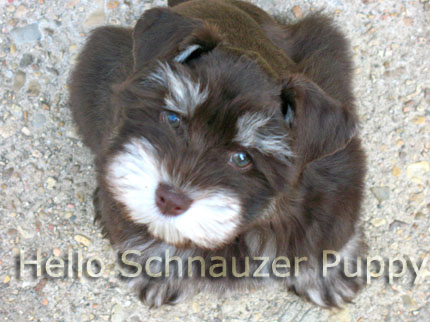 Categories: Puppy Information